WHY WOULD I NEED A RETAINING WALL?
There are a number of aesthetic and structural advantages to utilizing retaining walls on your property, especially here in Southwest Florida.
Retaining walls are hardscape structures that have been utilized by people all over the world for centuries to hold back soil, limit erosion and create more flat, usable space on sloped surfaces. The biggest structural advantage to adding retaining walls to your property is that they minimize erosion.
If your landscape is sloping or comprised of large amounts of sand (like most of Southwest Florida) then every time there are high winds or heavy rains your yard is losing soil. This is particularly true for areas that lack any substantial trees or shrubbery. The resulting erosion washes away fertilizers and nutrients from your landscaping, and may even create sinkholes that can be devastating to your home and potentially fatal!
The implementation of a retaining wall not only protects your property from erosion and minimizes stormwater runoff, but also provides you with significantly more useable space and has a dramatic impact on the overall appearance of your landscaping.
FIND THE PERFECT RETAINING WALL FOR YOUR HOME OR BUSINESS
There are a variety of different materials that can be used to build an effective and visually-appealing retaining wall. Natural stone has a timeless beauty and is incredibly durable, meaning that your retaining wall will continue to look great for years to come. Concrete blocks are the most commonly utilized material in the construction of retaining walls. Affordable and customizable (the addition of pigments and dyes during the manufacturing process allows for the availability of concrete blocks in a wide variety of colors and styles), they can very quickly be stacked which keeps labor costs at a minimum and have unmatched longevity.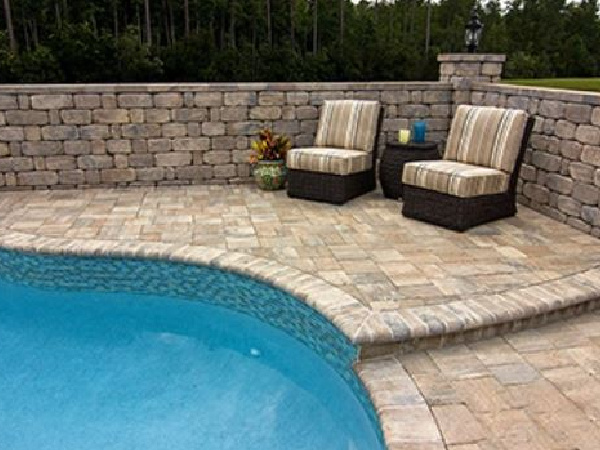 Poured concrete, often textured to look like stone, is becoming an increasingly popular option. Poured concrete allows for the highest level of customization and, when installed properly, provides a very structurally sound and aesthetically-pleasing finished product. Dyes and pigments can be added during mixing to achieve virtually any color you'd like and texture can be applied during the curing process to give your concrete retaining wall a truly one-of-a-kind, personalized look.
Retaining walls are a great way to give your landscape a unique look, while also adding structural integrity, curb appeal and value to your property. Contact the professionals at Allied Paver Systems today to find out more about how your home or commercial site could benefit from the installation of a retaining wall.